Let LED street lights realize intelligent light control
Views:0 Author:Site Editor Publish Time: 2021-05-24 Origin:Site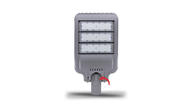 Today is the era of intelligence, smart cars, smart phones, etc., let people actually experience the beautiful experience of wisdom. In order to meet market demand, Shandong Kaichuang Optoelectronics Technology has undergone rigorous testing and has developed and launched a technologically advanced LED street lamp with light-controlled sensor switch, which has very stable performance.

When night comes and the illuminance is lower than the critical value set by the system, the LED street light will automatically light up. Until the next morning, when the illuminance is higher than the critical value set by the system, the street lights will automatically go out. This simple and affordable device is very suitable for the Central and South American and Southeast Asian markets.
When we walk on the streets of Central and South American countries or Southeast Asian countries, we may find that their street lamps and lanterns have a small hat or a small protrusion on them. It is not a camera or an alarm, but a small light control. switch. Compared with street lamps that require centralized controllers, engineering companies in these countries prefer LED street lamps with light-controlled sensor switches.